Contacts for
our sister schools
For Admission Enquires Please Call:
---
Modern M.E.I.S (CBSE)
Telephone : 2370773 / 2378660
Fax: 2375889
Mobile: 0548871804
---
M.E.I.S (English Section)
Telephone: 4161205 / 4647261
Mobile: 0544110609
About Us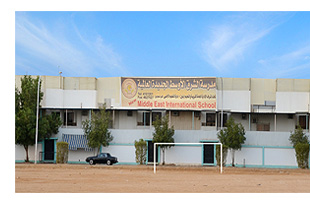 Welcome to New Middle East International School (Riyadh, KSA)
Our mission is to offer quality education focusing on all-round development in a conducive environment to expatriates residing in Riyadh. We have always believed that a school is made of four walls with a future inside. 'New MEIS' was established in 1998 and since then it has grown tremendously with only the sky as its limit. Today it sprawls over three massive, well-equipped compounds with state-of-the-art facilities and resources. Middle East International School - Riyadh, Saudi Arabia.
There has been a steady growth in the number of enrolments each year. Today, with a strength of almost 3500 students, we are one of the most popular schools in Riyadh-KSA. This is indicative of the trust and confidence that the parents have in the management and the teachers of the school.
The school offers the Central Board of Secondary Education (C.B.S.E.), New Delhi curriculum.
The school has a team of highly qualified and professional educationists as its teaching staff who are committed to innovative methods of instruction and creative activities in an interdisciplinary frame work. 'New MEIS' provides real value education and gives the space and effervescence required for its students.